There are a million ways to be part of the challenge and make an impact with London's Million Tree Challenge! Well maybe not a million but there are lots to be sure. Whether as an individual or as a business, you support the challenge in ways that work for you. Here are some examples of actions you can take that will get more trees planted and registered, and get London closer to the goal of one million new trees. Creative ideas are always welcome!
Actions For Individuals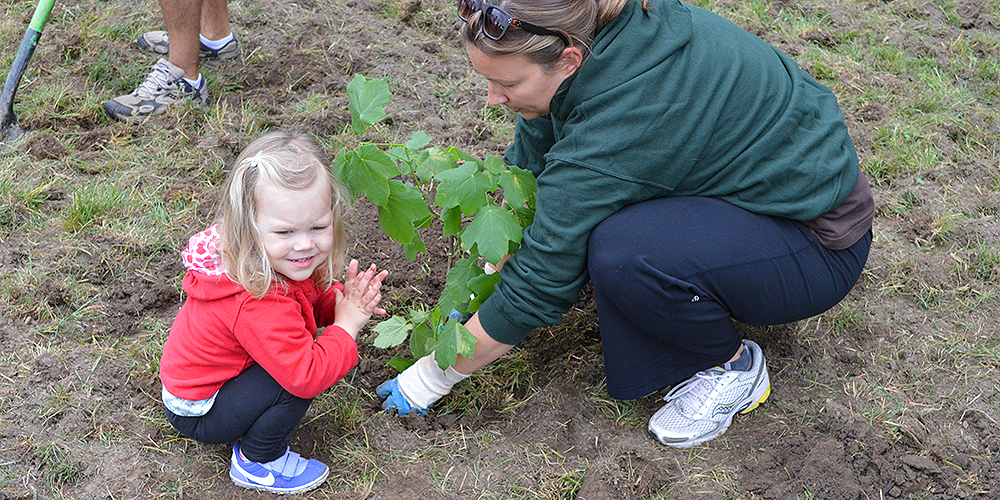 ​​​
Plant & Register Trees
As an individual, the biggest contribution you can make toward the Million Tree Challenge is to get trees in the ground and get them counted. The more we plant, the greener our city will be!
Volunteer to Plant Trees
If you want to get involved with planting but don't have any trees to plant of your own, you can attend a number of park planting events in spring or fall. Your support is much appreciated and also contributes to the number of trees planted in London!
Sponsor a Tree
Sponsoring a tree is the next best thing to planting one yourself! For only $25, you can sponsor a tree to be planted in a park. A perfect action to take if you don't have land to plant on and every tree planted matters.
Like, Share and Follow the Million Tree Challenge Facebook page
Spreading your support of the challenge across social media is a great way to get others involved. Comment on a post too! We would love to hear what you have to say about the Million Tree Challenge and why it is important to you.
Tell Your Friends About the Million Tree Challenge
The Million Tree Challenge requires everyone's help. As a community-wide initiative, the more people who know about the Million Tree Challenge, the more trees that get planted and registered in the Forest City.
 
Actions For Businesses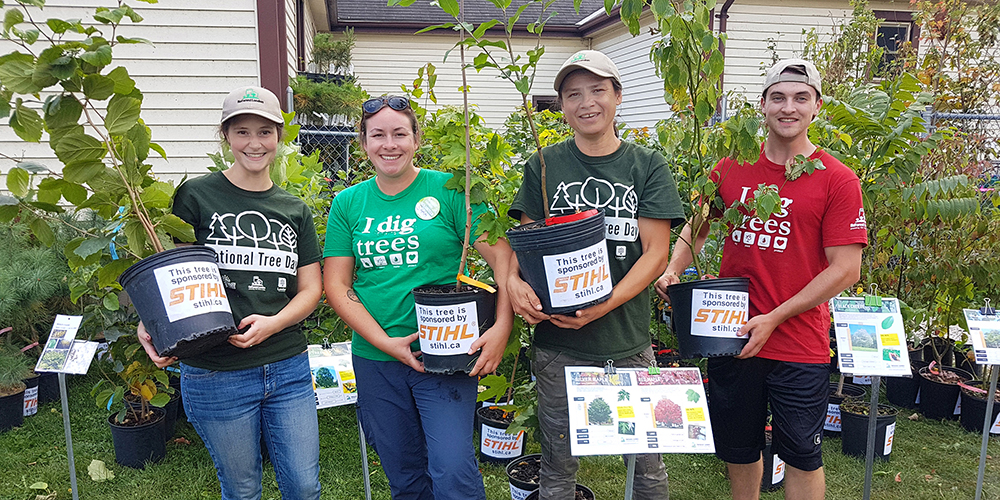 ​
Become an MTC Partner
The Million Tree Challenge currently has over 200 business, organization, institution and media partners who have all made a commitment to help plant more trees in the Forest City. Impactful activities range from no-cost advocacy right up to multi-year sponsorships. There are actions that appeal to both small businesses and large corporations. Learn more about being a partner and making an impact that helps everyone.
Become an MTC Sponsor
From small community events to large tree depots, businesses that sponsor anywhere from $1000-$50,000 will receive recognition on social media, their company name on the MTC website and so much more depending on the level of your donation. Please view our MTC Sponsorship Booklet for more information on how to become a sponsor and what you will receive as a sponsor.
Give Trees Planted in Celebration
Giving the gift of a tree planted in the Celebration Forest is the perfect business gift! Businesses enjoy having this gift option for when the need arises - company and employee milestones, retirements, a client or speakers gift, there are many times a tree gift would make the perfect gift. Trees planted in the Celebration Forest are gifts that keep on giving.
Host a Tree Giveaway
Do you have a big area on your property where ReForest London could set up a Tree Depot? Businesses can host and sponsor a tree giveaway event for the public or for your employees. Londoners love their trees and employees love green companies.
Plant Trees on Your Property
On most industrial and commercial property there is room for trees. Well treed commercial areas see more customer traffic and 5 - 10 % of industrial land cannot be developed. There are lots of options for large property owners to green up their land. See more about how to get trees for your property.
Volunteer as a Team to Plant or Care for Trees
Business group volunteering is very popular. It's a fun and rewarding activity to attend a park planting and help get trees in the ground or an aftercare event where a past naturalization plantings are given some care. Many companies do this with their 'green team' or as community day participation. This type of group activity builds your team and gives everyone a sense of accomplishment.
These are a just a few examples of ways you can participate in London's Million Tree Challenge. We have many with something to suit everyone whether a business or an individual. Get in touch and let us know your interests and we can find impactful activities for you to Be One In a Million! Contact sheila [at] reforestlondon.ca (subject: London%27s%20Million%20Tree%20Challenge) (Sheila Creighton,) Partnerships and Marketing Manager for more information on how you can get involved in London's Million Tree Challenge.